Welcome to Ohio Heat 13U Select Baseball
This is the home of the Ohio Heat 13U Select baseball team, playing in the National League of the Southwest Ohio League (SWOL) of Greater Cincinnati. Based in West Chester, with players from throughout Northern Cincinnati, our coaches are committed to skill development in a more competitive league with a strong emphasis on having fun while learning to play the game of baseball. The Ohio Heat is a family oriented team and believes strongly in developing life skills in addition to baseball skills and knowledge.
Ohio Heat 13U Baseball Breaking News
Last updated: Mar 15, 2017 4:24 PM
---
2011 Mark A. Kreusch Memorial Tournament Champions
2011 Playbaseball.info Tournament Champions
2011 USSSA Ohio Heat Bash For Cash Semi-finalists
2010 Classic at the Lakes Tournament Champions
2010 South Dayton Braves Preseason Classic Runner-up
2010 Midwest Ohio Baseball League Nations Qualifier Runner-up
2010 Roundtripper Elite Invitational Tournament Semi-finalists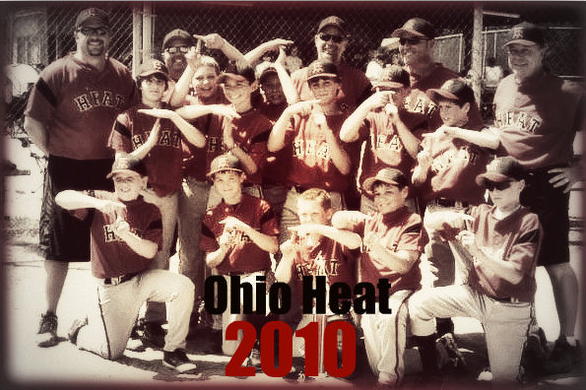 Classic at the Lakes Championship (artistic rendering provided by Will Hack)
Ohio Heat Mission
The Ohio Heat Baseball Association's primary focus will be the development and the enhancement of baseball skills while continuing to shape outstanding personal character. Every player, parent, and coach will have a sense of responsibility and understanding for the game of baseball as played in a structured environment. All actions will embody our commitment to excellence, sportsmanship, and integrity while providing the finest learning environment and competition. Life lessons learned will be an integral part of the advancement of each player while creating lifelong memories through the great game of baseball.
Upcoming Events
Today's Uniform
No game today
Next Five Games
There are no games currently scheduled.
Next Five Practices
There are no practices currently scheduled.
Tournament Championships
2011 Mark A. Kreusch Memorial
2011 Playbaseball.info
2010 Classic at the Lakes

Welcome to our Ohio Heat Players and Families
Welcome to the Ohio Heat Family. It is our goal to prepare our players to play baseball with enthusiasm, dedication, pride and commitment. It will be our charge to foster in each player a strong work ethic and positive attitude that will be the foundation for each player to succeed on and off the field. The program's philosophy will include commitment and sacrifice. Our priorities will be kept in order and a commitment to God, Family, Team, and Community will be stressed. Each player will be part of something very special.
Copyright © 2008 - 2017 Paul Szydlowski All Rights Reserved